While Zumper takes the security and safety of our platform very seriously, it is still a good practice to look out for rental scams. Just as you are conducting any activities or transactions online, when looking for that ideal rental, it is essential to be cautious when providing personal information, financial information, or making payments to people you don't know.
Common Red Flags of Rental Scams
Below Market Rental Rate
Familiarize yourself with the going rate in the areas that you intend to rent. If it is too good to be true, it usually is.
Request to Send Payment Right Away
If you are asked to send money before you even see the property or meet the landlord in person, be wary. They often ask the payment to be sent via payment app, Zelle, Bitcoin or bank wire transfer.
Unable to Meet in Person
Use caution when the landlord is just unable to meet you in person. They may tell you that no one can meet you because they live abroad, have an emergency or other dramatic stories.
Unable to Show the Property
You may be asked to just go to the property and check it out yourself. Sometimes you are given reasons why you cannot see inside of the property, i.e., someone is sick, they are out of town. You may also be told that they are running late then eventually given a reason, for example, their car broke down, and never show up at the property.
Report Scams and Fraud
If you come across a suspicious listing, let us know! There are two quick ways to let Zumper know so we can begin the investigation.
From the listing page, click the flag icon to report the suspicious listing. Be sure to select "This is a fraudulent listing/spam" and include any information that may be helpful for us to investigate.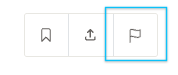 You may also fill out the support request form with the property address and any additional information about this suspicious listing.
If you believe you are the target of a rental scam, you should report it to your local law enforcement agency and to the FTC (Federal Trade Commission).
Other Helpful Resources